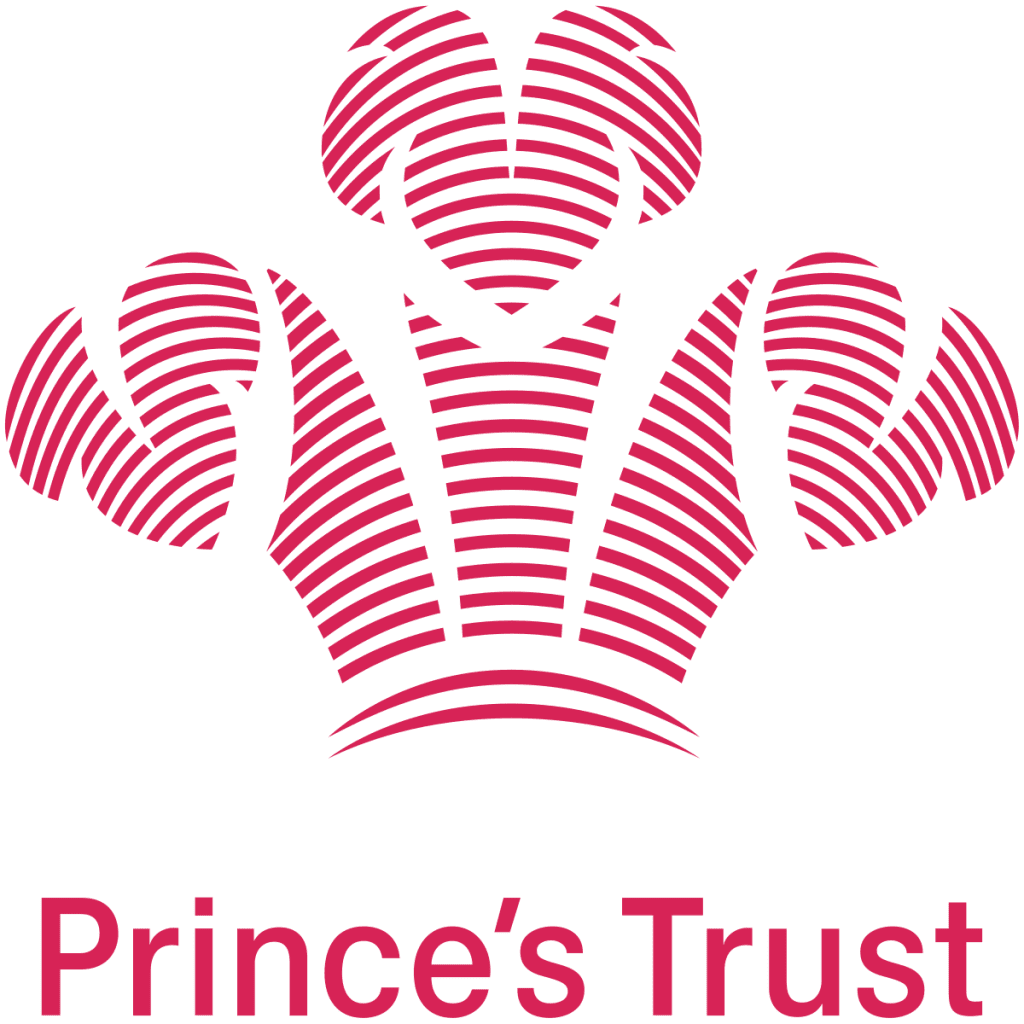 PRESS RELEASE: Thursday, February 18, 2021
Appoints Jessica Greer Morris Inaugural Chief Executive Officer
The Prince's Trust launches in the USA as Jessica Greer Morris is appointed its first Chief Executive Officer.
The announcement was made last night at an online event hosted by Lionel Richie, Global Ambassador and Chairman of the Global Ambassador Group for The Prince's Trust. A video message from the Founder and President of The Prince's Trust, His Royal Highness The Prince of Wales, was played, followed by an interview Lionel held with young people supported by The Prince's Trust.
Jessica joins Prince's Trust USA at a critical stage of growth for the charity as it responds to the devastating impact the COVID 19 pandemic has caused in the lives and livelihoods of young people around the world. Beyond her love of youth development and social justice advocacy work, Jessica has a proven track record in building youth programs from the ground up in the United States and abroad.
Dame Martina Milburn, DCVO CBE, Group Chief Executive of The Prince's Trust, says "For many years our young people at The Prince's Trust have benefitted from the generosity of our supporters based in the USA. We are thrilled that we can finally establish a Prince's Trust in the USA and look forward to this new chapter."
Lionel Richie says, "I was mentored by a village of people in Tuskegee, Alabama. I had people who kept saying to me 'failure is not an option.' And that's exactly what our young people get from The Prince's Trust. I can now make a difference in the lives of young leaders around the world."
In her remarks, Jessica noted, "Our goal over the next year is twofold—to create a conduit for US citizens to support our work around the globe and to bring the very same program transforming the lives of young people abroad to the United States."
The Prince's Trust has supported more than 1 million young people across 17 countries to access education, employment and training since 1976. Established by His Royal Highness The Prince of Wales in 1976, The Trust now leverages 45 years of expertise and experience to help organizations overcome the global issue of youth unemployment and to transform lives. Some of the notable young people enabled by The Prince's Trust include the actors Idris Elba and David Oyelowo.
Prince's Trust USA (PTUSA) will be working in partnership with the private sector, governments, and civil society to support young people aged 11-30 into work, education, or training. PTUSA aims to support the global work of The Prince's Trust and develop programs dedicated to young people in the United States. Our mission is to help young people transform their lives by developing the confidence and skills to live, learn and earn. Further information about Prince's Trust USA is available at princestrust.us.
For more information about event…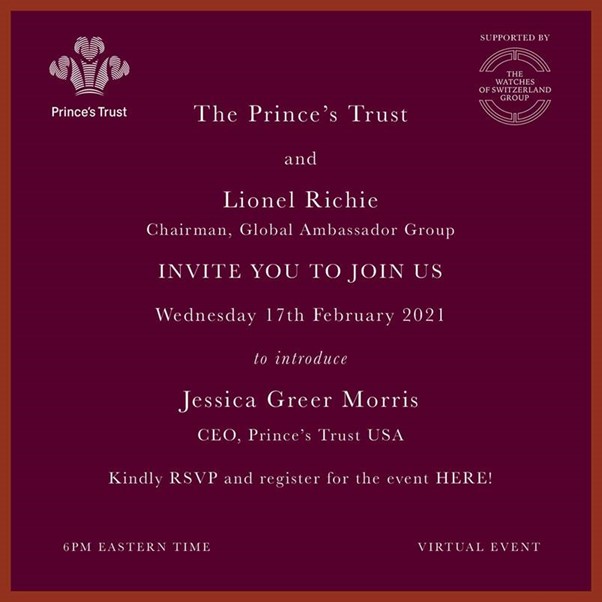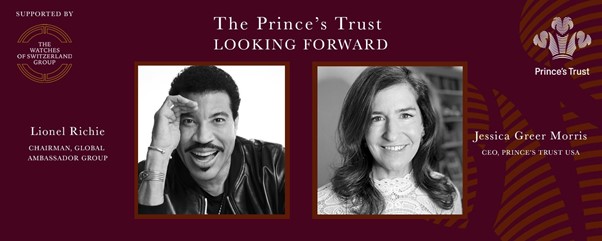 Prince's Trust USA – "Looking Forward" Event
February 17th, 2021, 6pm ET
Event Timeline
Introduction by Dame Martina Milburn DCVO CBE Group Chief Executive
A Video Message from His Royal Highness, The Prince of Wales Opening Remarks
Welcomes Jessica Greer Morris, Chief Executive Officer, Prince's Trust USA
Thanks the team and Prince's Trust supporters
Jessica Greer Morris and Lionel Richie (Global Ambassador/Chairman, Prince's Trust Global Ambassador Group) discuss why they are deeply committed to The Prince's Trust charity.
Lionel Interviews Two Young Program Participants
Cordell Jeffers, Young Ambassador (UK)
Akeme Cox, Young Ambassador (Barbados)
Jessica Shares Vision for PTUSA and Call to Action
Sponsor: Brian Duffy, CEO, The Watches of Switzerland Group, speaks about the Global Gala in NYC (Sept 9), hosted by Lionel Richie and Edward Enninful (Editor-in-Chief of British Vogue & European Editorial Director)
Jeremy Green, PTUSA Board Chair, thanks guests and invites them to post-event discussion to ask questions of incoming CEO, Jeremy + special guests.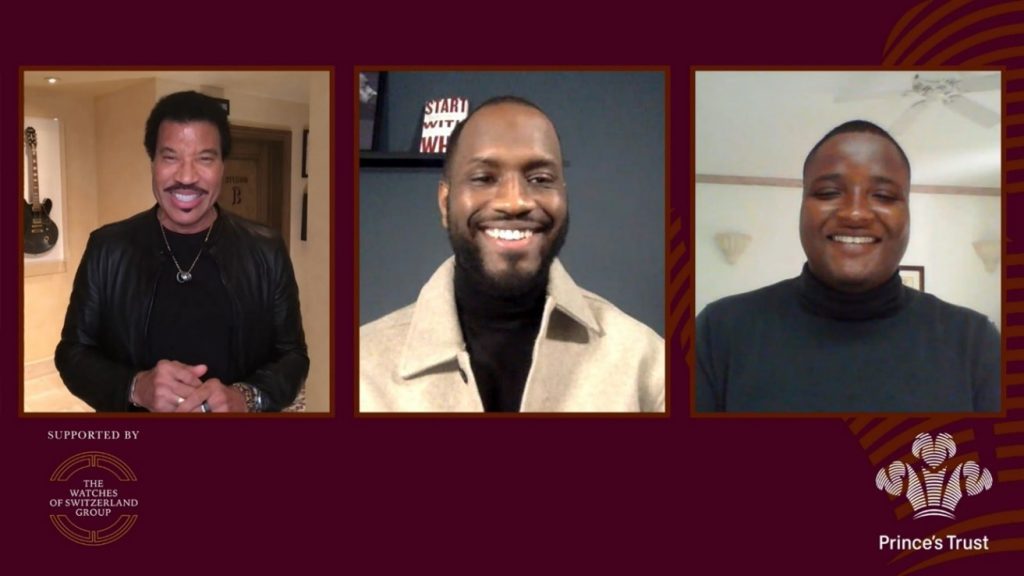 HRH Quote: In a pre-recorded message from the Founder and President of The Prince's Trust, His Royal Highness The Prince of Wales said, "The tragedy is that young people have been hit particularly hard by the pandemic, which has only added to the significant global challenges of youth unemployment, and lack of education and opportunity. These are the challenges that drive the work of my Trust and there has never been a better time to invest in young people, to provide them with the skills they require and to ensure they thrive in the job market."
Bios
Lionel Richie, Global Ambassador / Chairman of Prince's Trust Global Ambassador Group
American singer, songwriter and global superstar will be working with The Prince's Trust to scale-up and expand its work around the world. As Chair of The Prince's Trust Global Ambassador Group, Lionel Richie will support the charity as it delivers on its global remit, tackling issues such as youth education and unemployment, supporting indigenous youth and helping build sustainable communities.
Lionel's music is part of the fabric of pop music; in fact, he is one of only two songwriters in history to achieve the honor of having #1 records for nine consecutive years. With more than 125 million albums sold worldwide, an Oscar®, a Golden Globe®, four Grammy Awards®, the distinction of MusicCares Person of the Year in 2016, and Kennedy Center Honoree in 2017. In March 2018, Richie put his handprints and footprints in cement at the TCL Chinese Theatre IMAX in Hollywood, one of the oldest awards in Hollywood. He recently received the Ivor Novello PRS for Music Special International Award. The Tuskegee, Alabama native is a true music icon.
In Spring of 2019, Lionel was named Global Ambassador and Chairman of the Global Ambassador Group for The Prince's Trust for his selfless work helping young people all over the world achieve their dreams and transform their lives. Lionel was also honored at the 23rd Annual Power of Love Gala in Las Vegas in 2019 that raised 10 million dollars for the Cleveland Clinic Nevada to provide service, care and resources for patients in the fight against cognitive diseases. Lionel Richie is known for his mega-hits such as "Endless Love," "Lady," "Truly," "All Night Long," "Penny Lover," "Stuck on You," "Hello," "Say You, Say Me," "Dancing on the Ceiling," and co-wrote one of the most important pop songs in history, "We Are the World," for USA for Africa. He was a judge on ABC's American Idol for the past 3 seasons and will return to the 'Judge's' chair for the 2021 season.
Jessica Greer Morris, CEO, Prince's Trust US
Jessica brings a wide array of executive management expertise from the youth development, government, and nonprofit sectors and key knowledge and experience of international organizations. Her former roles as Founding Executive Director of the global nonprofit Girl Be Heard, girlbeheard.org, that develops, amplifies and celebrates the voices of youth through socially conscious theatre-making, a founding Principal at Man Up Campaign to stop violence against women and girls, launched at the 2010 World Cup in South Africa, and various senior executive positions working in government.
Throughout her career as a human rights advocate over the last thirty years, Jessica is best known as a tireless community organizer and unwavering champion gender and racial justice. A forerunner of criminal justice reform, Jessica's first job (1991-94) was at the Manhattan District Attorney's Office advocating for court-involved youth and adults to receive drug treatment as an alternative to prison. As a senior executive at the NYC Health Department (1999-2005), Jessica leveraged epidemiological data to address grave (often fatal) health and economic disparities across the five boroughs and was a first responder post 9/11.
Throughout her public service career, Jessica has worked closely with and mentored young community organizers and activists. At the 2010 World Cup in South Africa, she helped launch the Man Up Campaign with 100 young leaders from 25 countries working to stop violence against women in their communities. Jessica is best known for devising award-winning shows about sex trafficking, forced child marriage and other human rights issues at Girl Be Heard, where she served as Founding CEO/Executive Director. Jessica was listed in Newsweek as one of 150 Fearless Women who "shake up the world," alongside Oprah Winfrey, Lady Gaga and Nobel Laureates as a defender of human rights. She is also an Aspen Institute Scholar, Ashoka Changemaker, Hearts on Fire Visionary, and the recipient of SELF Magazine's Women Doing Good Award. Jessica graduated from Columbia University with a Masters in Public Health and lives in Brooklyn with her husband and identical twin boys.
Akeme Cox, 2020 Prince's Trust Global Award Winner, Barbados
Akeme grew up in Fairy Valley in the south of Barbados. His mum and dad both work in farming, his mum with horticulture and his dad with animals such as horses, sheep and goats. When Akeme got to secondary school age he started hanging out with a new group of friends and he began to dislike school. Instead of going to school and focusing on his exams, Akeme started to skip class and meet up with his friends. In 2016, a friend of his heard about the launch of the Prince's Trust International'TEAM' personal development program in Barbados and recommended it to Akeme. He saw it as an opportunity to get involved in something new on the island. Akeme and the other young people discovered the confidence to believe in themselves and to fulfil their potential. , .
After completing the 'TEAM' program, Akeme was offered a full-time job at the Blue Horizon Hotel. This taught him to be vigilant and hardworking. Akeme also dreamed of being an entrepreneur and has sinceset up his own hot sauce and catering company "Paradise Eats."
In March 2020, Akeme travelled to London to accept The Prince's Trust Global Award from HM The King, and attended a dinner at Buckingham Palace. Akeme's story was featured globally on CNN International where he was recorded at home in Barbados with the Prime Minister of Barbados, Mia Mottley.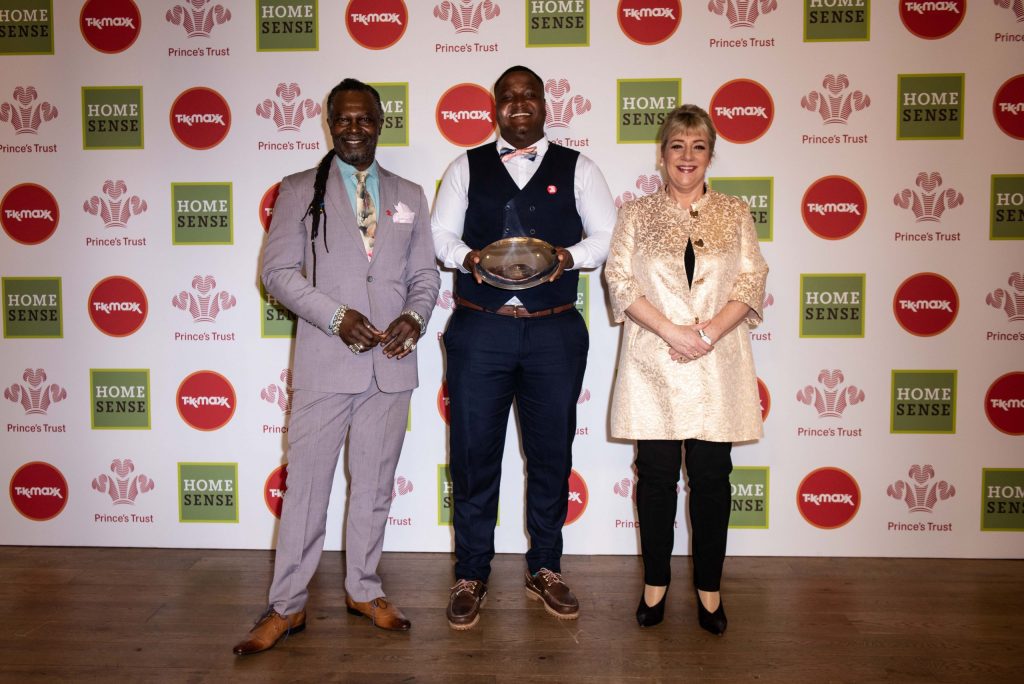 Cordell Jeffers, 2021 Finalist for The Prince's Trust Awards, UK
Cordell's secondary school education was a negative experience. He was kicked out of lessons regularly and left with no GCSEs. "I was told by teachers that I would end up in prison and not amount to much." His mum valued education and could see that a different structure could help him, so she sent him to the Caribbean for a year and a half to finish his secondary school education.
On his return, he lived with his auntie in Birmingham, England. Cordell says "Many of my friends at the time became involved in criminal activity. I was keen to make something of myself." To achieve that goal, Cordell completed high school and attended Manchester University but left before completing his course. This made it harder for Cordell to find work – he applied for hundreds of jobs with no success. "This left me feeling worthless…my confidence was at rock bottom."
Cordell decided the only way he could earn a living was to open his own business. He was introduced to The Prince's Trust by a friend and was accepted onto the 'Explore Enterprise' Program. The Trust gave him the confidence and support he needed to set up his sportswear business – Mungo Sports. Cordell also set up a social enterprise, 'We Shine Together,' with his partner Sherona, which has helped to send over 30 young people to schools in Nepal, Zimbabwe and India. Additionally, Cordell and his team provide learning resources for struggling schools in these countries.
More recently, Cordell has set up a food delivery project for homeless and hungry people in Birmingham, England.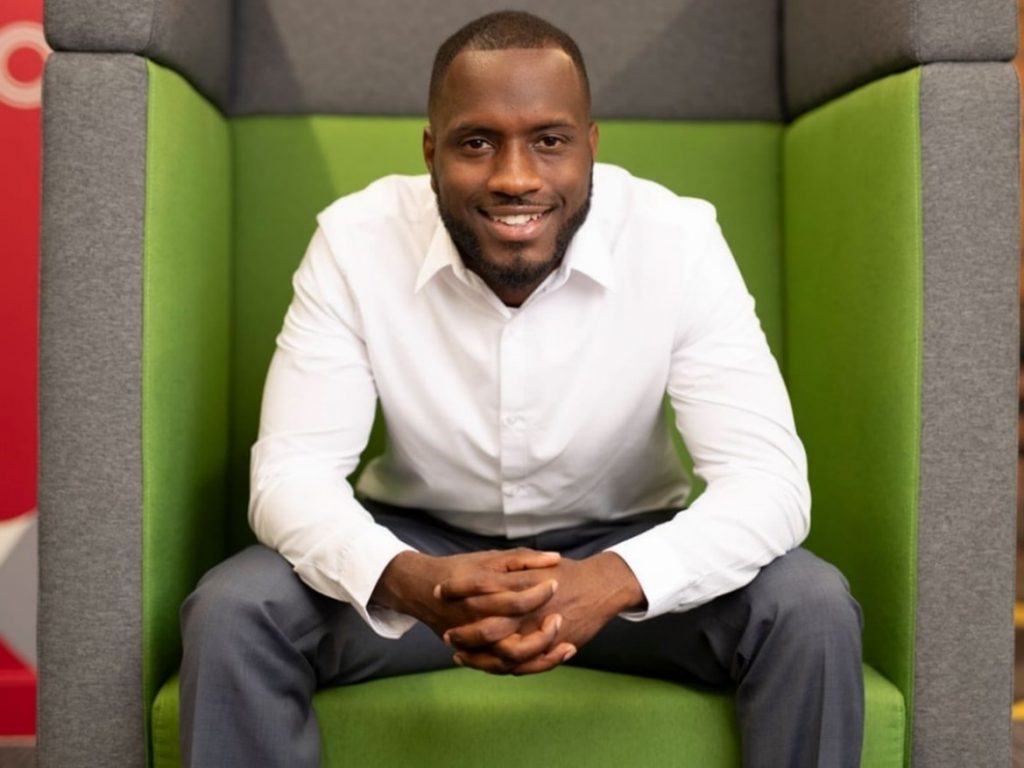 The Watches of Switzerland Group
The Watches of Switzerland has been a generous supporter of The Prince's Trust work with young people for years. For details about our partnership, go to The Watches of Switzerland Group and The Prince's Trust (adobe.com).
The Watches of Switzerland Group is the UK's largest luxury watch retailer, operating in both the UK and US, comprising four prestigious brands; Watches of Switzerland (UK and US), Mappin & Webb (UK), Goldsmiths (UK) and Mayors (US), with complementary jewelry offering.
As at 24 January 2021, the Watches of Switzerland Group has 146 core stores across the UK and US (which includes 35 dedicated mono-brand stores in these two markets in partnership with Rolex, TAG Heuer, OMEGA, Breitling, Audemars Piguet, Tudor and FOPE) and has a leading presence in Heathrow Airport with representation in Terminals 2, 3, 4 and 5 as well as five transactional websites.
The Watches of Switzerland Group is proud to be the UK's largest retailer for Rolex, Cartier, OMEGA, TAG Heuer and Breitling watches.
Mappin & Webb holds Royal warrants as goldsmiths, silversmiths and jeweler to Her Majesty The Queen and silversmiths to His Royal Highness The Prince of Wales. The Mappin & Webb master jeweler has been Crown Jeweler, custodian of the Crown Jewels of Her Majesty The Queen since 2012.
For more information, contact:
James Macdonald 520-449-7055, [email protected] / PTUSA Office: 646-768-7878 (646-76-TRUST)
Further information about Prince's Trust USA is available at princestrust.us.
Further information about The Prince of Wales is available at princeofwales.gov.uk.
Prince's Trust USA Social Media:
Linkedin
Twitter– @PrincesTrustUSA
Instagram– @Princes_Trust_USA
Facebook– @PrincesTrustUSA
Lionel Richie's Social Media:
Twitter– @LionelRichie
Instagram– @LionelRichie
Facebook– @LionelRichie
Watches of Switzerland Social Media:
Linkedin
Twitter– @WoS_OfficialUK
Instagram– @watchesofswitzerland_official
Facebook– @watchesofswitzerlandsoho